Global Outreach
Each year our administrative staff works in collaboration with the parent directed Philanthropy Committee to investigate and develop avenues in which we can give back to the world. In an effort to teach our students to be responsible global citizens, we take the first step by setting an example through supporting global outreach programs. We then extend this to the classroom where we educate the students about the plight of those raised in differing circumstances from being raised in a dumpsite in the Philippines to children's homes in our community. These initiatives are presented by parents and facilitated by the committee throughout the year. Some of our past projects include:
2006-2007 Building a school in Cambodia
Working hand in hand with American Assistance for Cambodia (AAFC), the Willowbrook community raised funds to provide for the building of a Willowbrook sister school, a five room school house in a remote region of Cambodia, and the funds to support and sustain it for five years. The school is equipped with 5 computers, a power generator, a satellite for internet service, a water well for clean drinking water, textbooks, a dedicated English/Computer teacher and is considered to be one of the best secondary schools in the country.
2007-2008 Supporting Local Children's Home
Fukudenkai is a social welfare corporation that manages two children's homes for children ages 2-18 with a history of neglect, abuse or developmental delay. The funds raised this year afforded children's coats, shoes, safety helmuts, a printer, a radio, a carpet, fruit and two special holiday meals for all 70 children.
2009-2010 Furnishing Classrooms in the Philippines
Philippine Christian Foundation helps to end child labor and poverty in dumpsites and slums through building education centers and feeding programs. The combined efforts of three participating preschools yielded the furnishing of 4 preschool classrooms and setup wiring for computers.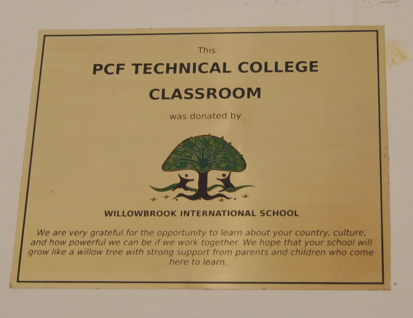 2010-2011 Two School Libraries in Zambia
Room to Read focuses on literacy and gender equality in education through building schools, libraries and supporting girls education. Our year-long fundraising efforts and a combined social event with local pre-schools supported the building of two Zambian primary school libraries at Sopa Basic School and Kansangazi Basic School. Room to Read will actively support this library for the next three years, providing an annual supply of books, visiting regularly to monitor its usage, and training the librarians and teachers to create literate, engaging spaces where students can thrive.

2011-2012 Wildlife Adoption and 140 tree Willowbrook Forest in Chiba
Each class raised money through a coin drive to adopt an animal from the World Wildlife Federation. The students chose an animal for their class to adopt, researched their animal and gave presentations to other classes. Working with Present Tree, our fundraising efforts planted 140 trees to create a Willowbrook forest in Sanmu, Chiba prefecture.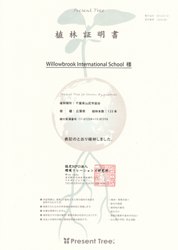 2012-2013 PLAN Japan
PLAN Japan helps to build wells and sanitation systems in developing countries. The children will learn about the importance of water as well as showing compassion to the people in need. Some of the money raised this year will also help Keifukuen, a local children's center located in Hiroo.
2013-2014 Built a playground in Tohoku
We helped building an outdoor playset for a daycare in Tohoku (Minami Sanriku) that will replace the outdoor playset that was lost in the 3.11 Earthquake .
2014-2015 Supporting a Preschool in India and a Local Children's Home
Starting Point is a preschool that provides a free education for under-privileged children of migrant workers living in Goa, India. With the funds raised this year, we were able to provide them with a power generator for their electrical appliances, milk and rice for a year, a clothes dryer to be used during the monsoon season, workbooks and books for a small library, security lighting for the school building, partial rent payment for the school building, and servicing of the school van. Wakabaryo, located in Meguro, is a home for children ages 2-18 who cannot live with their parents or families for various reasons, including abuse or illness. The funds raised this year were able to cover essential items for the home and children necessities.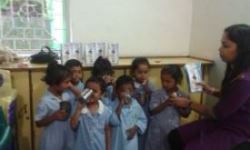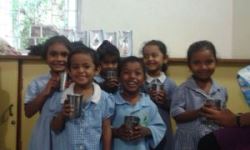 .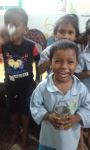 2015-2016 Shine On! Kids Facility Dog Program
Shine On! Kids is a Non-Profit Organisation which focuses on helping children with cancer and other serious illnesses face life with confidence, smiles, hope and courage. Their Facility Dog program is Japan's first, full time Animal Assisted Therapy program at a children's hospital. First launched at Shizuoka Children's Hospital in January 2010, and July 2012 in Kanagawa Children's Medical Centre, the program aims to improve treatment outcomes and children's approach to medical treatment/therapy through the use of a Facility Dog, a kind of specially trained therapy dog that provides love and companionship to patients at hospitals.
Shine On! Kids have recently added another element to the Facility Dog program by creating stuffed Facility Dogs to give to children at hospitals where a Facility Dog is either not available or the child has missed out on his visit for one reason or another.
The Philanthropy committee have donated all of our fundraising proceeds for 2015/2016 to the Shine On! Kids Facility Dog program which meant we could donate 400 stuffed Facility Dogs to the children in hospital.
As part of our support for the program, and to give Willowbrook children a unique and very personal contribution toward the program, we were given the opportunity to design a ribbon to attach to each of the stuffed dogs we donated.