Curriculum Overview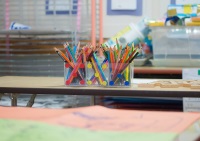 When you enter the foyer of our school, you may notice that it is void of bright colors, bold patterns or print. Our hope is that our natural and neutral surrounding is the stage upon which each student and each class can create their own world through discovery, creativity and innovation which we can then display throughout the school.
Our comprehensive curriculum is designed around an inquiry based learning program where the child`s interest dictates the theme or project. We work from the vantage point of meeting all age appropriate developmental milestones and from there allow our insightful and highly educated staff to guide in-depth investigations of real world topics. The length of time dedicated to each theme is determined by careful observation and recording by the teaching staff and the children's level of interest.
Our unique hands-on learning style, blended with the right amount of skill-based pre-academics (i.e. math, science, literacy, etc.) and creative energy, has led to increased student involvement and hopefully stimulates a lifetime of intellectual learning. The environment and curriculum for each of our classes is designed to be developmentally appropriate, interesting and challenging as well as providing continuity throughout your child's four-year preschool journey.
The Regular program for ages fifteen months through five years is taught in English by a qualified Lead Teacher who is a native English speaker; however, Japanese culture and language lessons are an integral part of our daily program. Each day the regular program has Japanese time.
In addition to our Regular program, the Dual Immersion (bilingual program) is conducted in both English and in Japanese. For these classes, Lead Teachers in both English and Japanese are native speakers. For younger children aged two to three, children receive daily instruction in both languages switching halfway through the day. For ages three to five years, we offer a combined age class with more intensive bilingual programming where the language instruction changes based on the day of the week. For example, Mondays and Wednesdays are taught exclusively in English, while Tuesdays and Thursdays are taught exclusively in Japanese and then on Friday switching languages at mid-day.
Classes Offered by Age Level
Regular Program
Days Offered
Dual Immersion  Program 
Days Offered
15 mos/2 yrs
2/3/5 half/full

---------------

2/3/5 half/full

2-3 years

2/3/5 half/full

2-3 years

2/3/5 half/full

3-4 years

2/3/5 full day only

3-5 years


 

5 full days only


 

4-5 years

3/5 full days only
* Half Day 8:15-12:30 Full Day 8:15-2:00
We have a carefully researched curriculum divided into five categories:
Category 1 : Human Values and Human Skills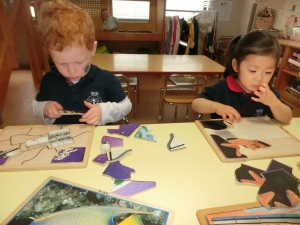 We encourage children to be independent and interdependent. We want the children to take initiative, to have the confidence to express themselves, to have the ability to interact in small groups and large groups and to show respect for others, to display tolerance and kindness to all.
Category 2 : Power of Creativity and Imagination
Through art the children are encouraged to express their own creativity. Imaginative play is used to enhance children's social skills, language skills and cognitive skills. Music is an integral part of the daily routine. Creative dramatics is used to develop self-expression and self-awareness.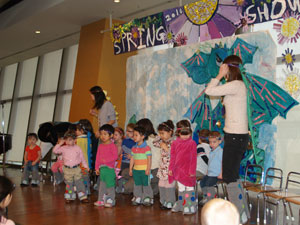 Category 3 : Multicultural Awareness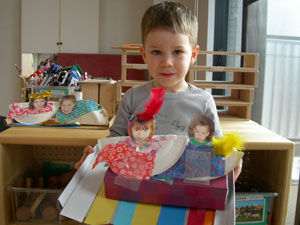 Although the primary language at Willowbrook is English, the children are exposed to many languages. The children engage in various projects such as cooking, costume display and handi-crafts that help to develop their knowledge and awareness of many different countries, including Japan. As a school, we celebrate international week where each class focuses on a specific country and shares the knowledge they gained with other classes.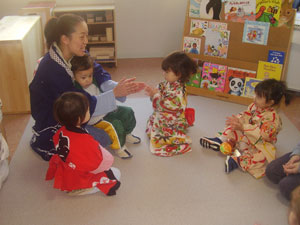 Category 4 : Fundamental Knowledge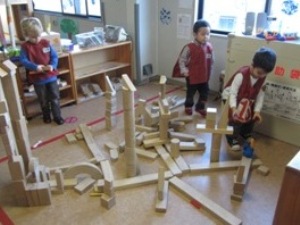 Language Arts skills are developed via story telling, puppet shows, imaginative play, creative dramatics, photo journaling and mini book publishing. Math skills are introduced through "hands on" activities such as cooking, problem solving and shape and size manipulatives. Science is included in the curriculum so that children explore and discover their natural environment.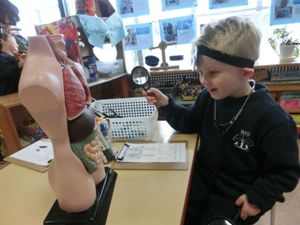 Category 5 : Physical Development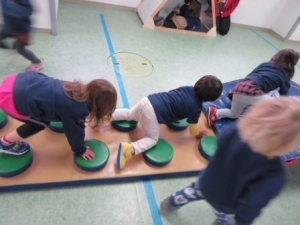 Physical activity is essential to the growth and development of our children. Their daily routine includes physical exercise at the local park as well as creative music and movement in the classroom.